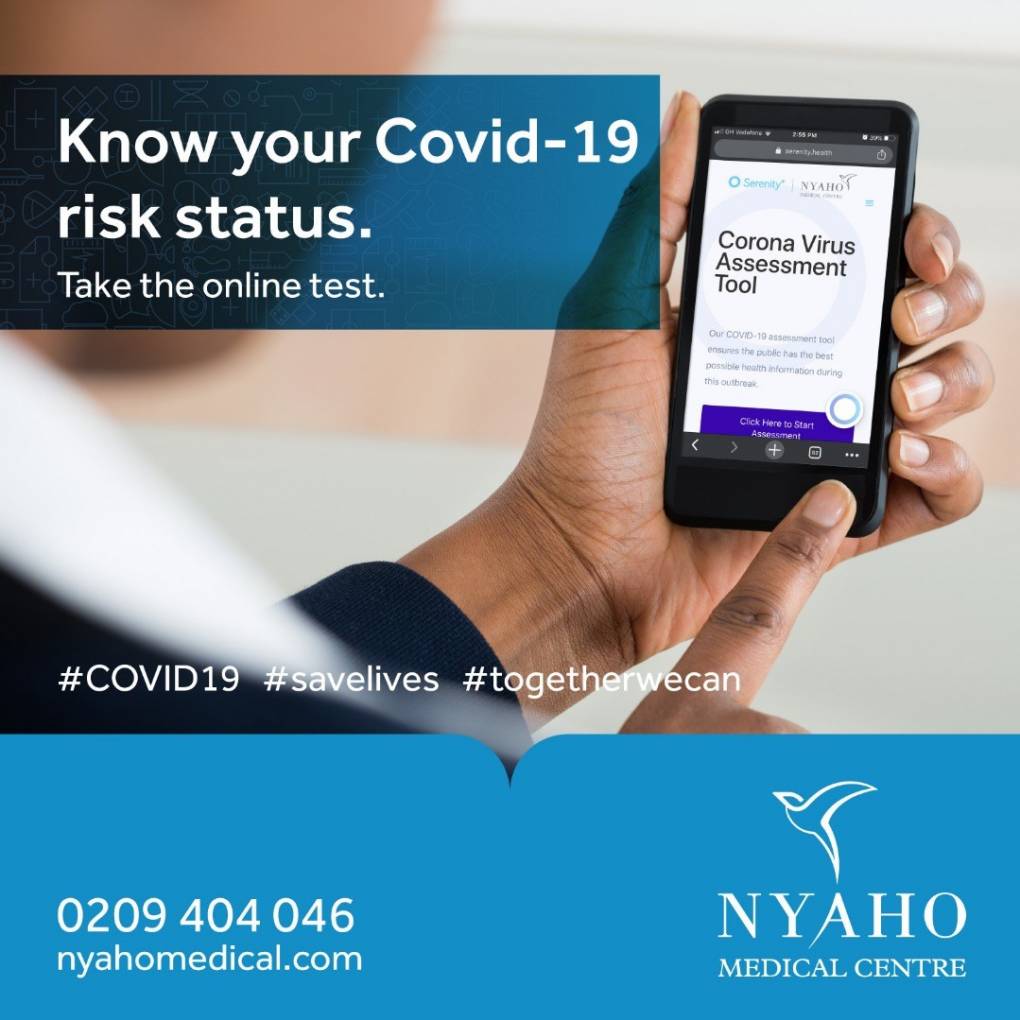 Nyaho Medical Centre, Ghana's premier group medical practice together with ClearSpace labs, a leading Artificial Intelligence Research & Development company has launched a COVID-19 assessment tool called Serenity Health. The tool was developed to help the general public in Ghana assess their COVID-19 risk, connect with health teams and testing locations as well as enable daily follow-ups on the coronavirus pandemic.
The assessment tool will help people make decisions about seeking appropriate medical care at certified locations in Ghana.
Globally, the coronavirus has affected over one million people with Ghana recording over 200 cases, and institutions around the world are battling to find a solution to this pandemic. In Ghana, the government and different institutions in the private sector are collaborating to reduce the spread of the virus through education, voluntary testing, and self-isolation where necessary.
As leaders in their respective industries, Nyaho Medical Centre and ClearSpace Labs' collaboration to develop a COVID-19 assessment tool is expected to lead the way in using technology to educate and reduce the spread of coronavirus. The collaboration is also an indication of the need for continuous partnership and collaboration between governments and different institutions in both the private and public sectors.
Dr. Elikem Tamaklo, Managing Director of Nyaho Medical Centre said "We live in complex and uncertain times where the requirements to overcome the significant challenge of COVID-19 in our communities requires innovation, speed, and discipline. We at Nyaho, have always believed in collaboration and partnership, and through our relationship with ClearSpace Labs, have developed a tool that will assist patients in making decisions about whether or not to be tested for COVID-19 and healthcare workers in assessing for risk. This tool will also help in the nation's efforts to conduct adequate contact tracing, ensuring that confirmed cases are properly traced, and contacts are identified."
On his part, Mr. Ehi Binitie added "At Clearspace, we believe that technology is an essential tool in the fight against COVID 19 and ultimately in our mission to advance the human condition by providing access to world-class healthcare for everyone.
We are inspired and humbled by the sacrifice and service of our healthcare workers in fighting this disease. When the crisis hit, it was just a clear part of our call to do our part and use our expertise in technology and Artificial Intelligence to provide those workers with the tools they need to keep our healthcare system from getting flooded. We are excited to be working with Nyaho Medical Centre which represents the gold standard in world-class healthcare delivery in Ghana".
The COVID-19 assessment tool is accessible by a simple link (http://serenity.health/covid19/)