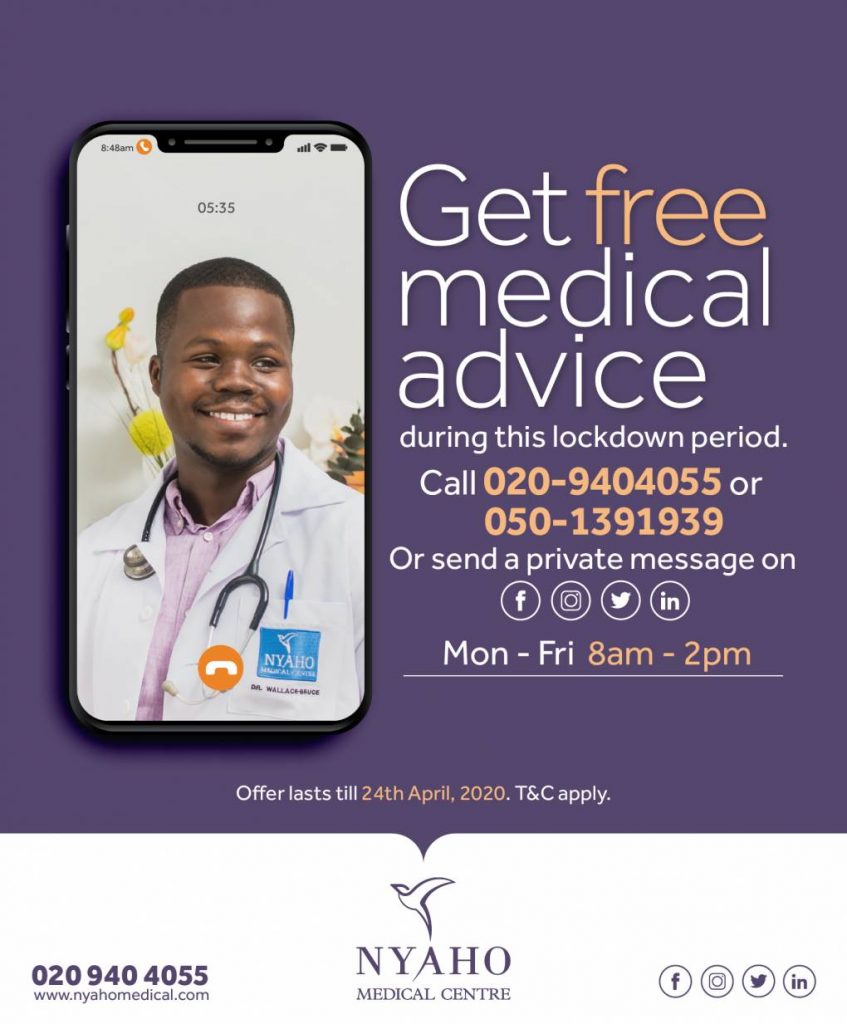 FREQUENTLY ASKED QUESTIONS – FREE MEDICAL ADVICE VIA TELEPHONE
1. Which category of medical personnel will be offering the service?
The free medical advice is given by General Practitioners from Nyaho Medical Centre.
2. When can I call for the free medical advice? Since the outbreak of the coronavirus globally and in Ghana, people have generally shunned from hospital facilities for fear of contracting the virus. This can increase the risk of patients with medical conditions because they do not recognize the seriousness of their illness early or may not present early for medical intervention.
On this premise, Nyaho Medical Centre as a trusted health care partner is offering free medical advice to patients who might need general health advice on existing and developing conditions.
Patients can call 0209404055 / 0501391939 Monday to Friday from 8am to 2pm
3. How long is the free medical advice being offered?
The free medical advice is on offer from 20th – 24th April 2020
4. Do I have to be an existing patient of Nyaho Medical Centre?
No, this is accessible to the general public (all).
5. How do I prepare before the call?
You could write down all you concern, drugs you are on/medical history before the call
6. Can I call more than once within this period?
There are no limitations to the number of times to call. However, patients are advised to call only when they need the service.
7. Is my engagement with the doctor confidential?
All conversations during the call are confidential