This year, Nyaho Medical Centre celebrates 50 years of providing quality healthcare in Ghana and we are excited to share this celebration with all our stakeholders. On the 3rd of March 2020, we launched the anniversary in the media with plans to roll out four main events in the course of the year.
Undoubtedly, the COVID-19 pandemic affected most of our planned activities which sought to recognize and celebrate our patients, employees, suppliers, and all stakeholders who have contributed to the success of the hospital over the past 50 years.
As the leader in Ghana's health sector continues to work assiduously at bringing the pandemic under control, we are pleased to share that we will climax the anniversary with a virtual musical on the life of the founder of Nyaho Medical Centre, Col (Rtd) Dr. Kwami Nyaho Tamaklo at 3 pm on 1st November 2020, which also marks the 19th anniversary of his passing.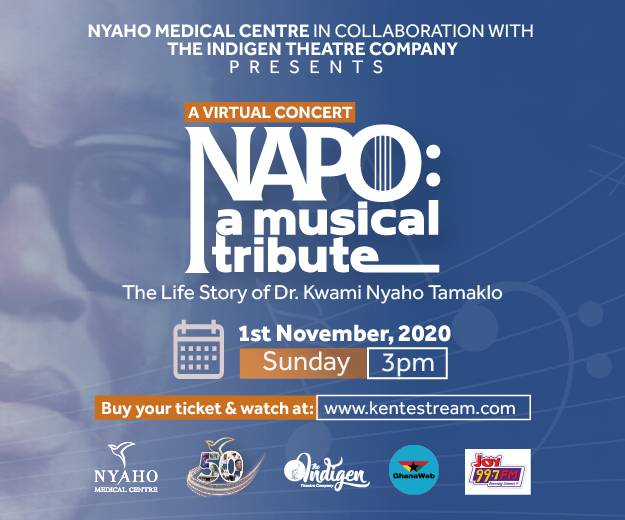 This virtual musical concert titled, "Napo, a musical tribute" is being produced in partnership with a Ghanaian company, Indigen Theatre which produces family-friendly musicals tailored to have a global and universal appeal. Some of their productions include Born for This and Adinkra.
"Napo, a musical tribute" chronicles the life story of Dr. Kwami Nyaho Tamaklo (born Napoleon Hacedion Tamaklo), through iconic songs. Admirable character traits of the founder such as, resilience, determination, and foresight are brought to bear in this musical which we believe are important to today's entrepreneur and business leader.
To buy a ticket, kindly log on to www.kentestream.com
50% of all proceeds from the sale of tickets which sells for GHC50.00 each will be donated to the Nyaho Dove Foundation to promote breast cancer education.
DON'T MISS OUT!!!