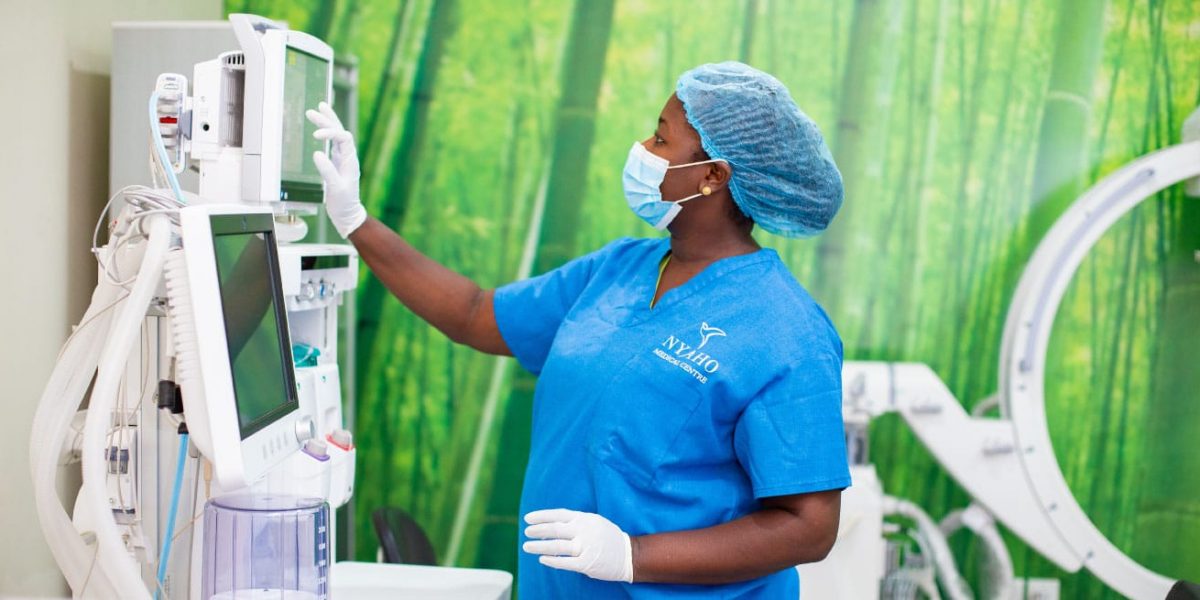 We know that surgeries can be scary for many patients, and so the operating rooms have also been set up to create a calming and comforting ambience for patients.
Nyaho Medical Centre has a double capacity theatre to provide a safe and holistic care to our patients. The theatre comprises:
Two operating rooms to conduct all surgeries including orthopedics, gynaecological, urological and obstetric procedures.
Global standard theatre equipment C-arm, endoscopic tower, anesthetic machines, video laryngoscopes, cardiac monitors from GE Healthcare.
Air filtration system to optimize infection prevention and control.
Operating Rooms
The theatre has 2 operating rooms, both equipped with C-arm, endoscopic tower, anesthetic machines, video laryngoscopes, cardiac monitors. This prevent queuing up for procedures to be performed as well as give the opportunity to manage internal and referred emergency cases.
The larger operating room is sited on a 50sqm space and provides more space for major cases that require intra operative imaging.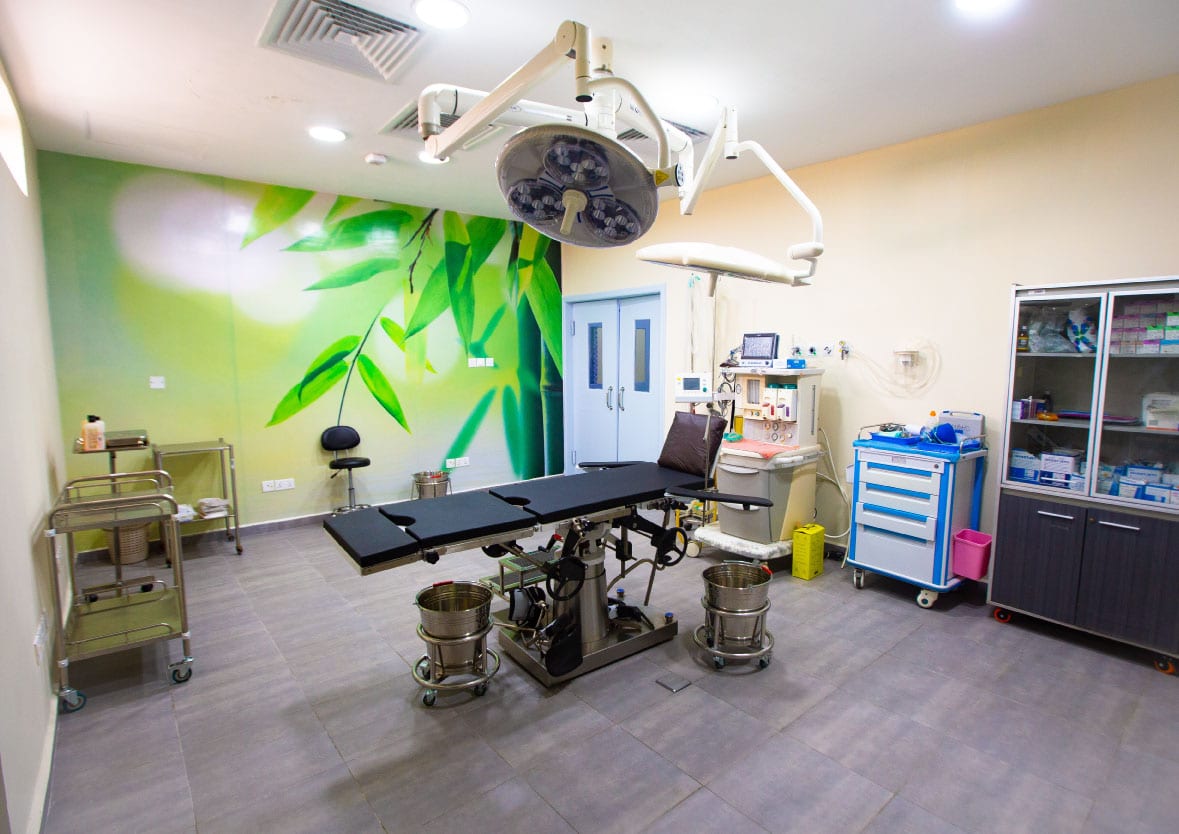 Recovery Ward
The new theatre has a 6 bedded pre/ post op area equipped with patient monitors to ensure continuous monitoring after surgery.
Clinical procedures carried out at the theatre?
Major orthopedic procedures
General surgery procedures
Major obstetric and gynecological procedures
Urological procedures
Otorhinolaryngology (ENT) procedures
Plastic and cosmetic surgical procedures.
About the theatre team.
The team comprises experienced orthopedic surgeons, obstetricians/gynecologists, general surgeons, plastic surgeons, urologists, ENT surgeons, pediatric surgeons, anesthesiologists and perioperative, critical care and general nurses.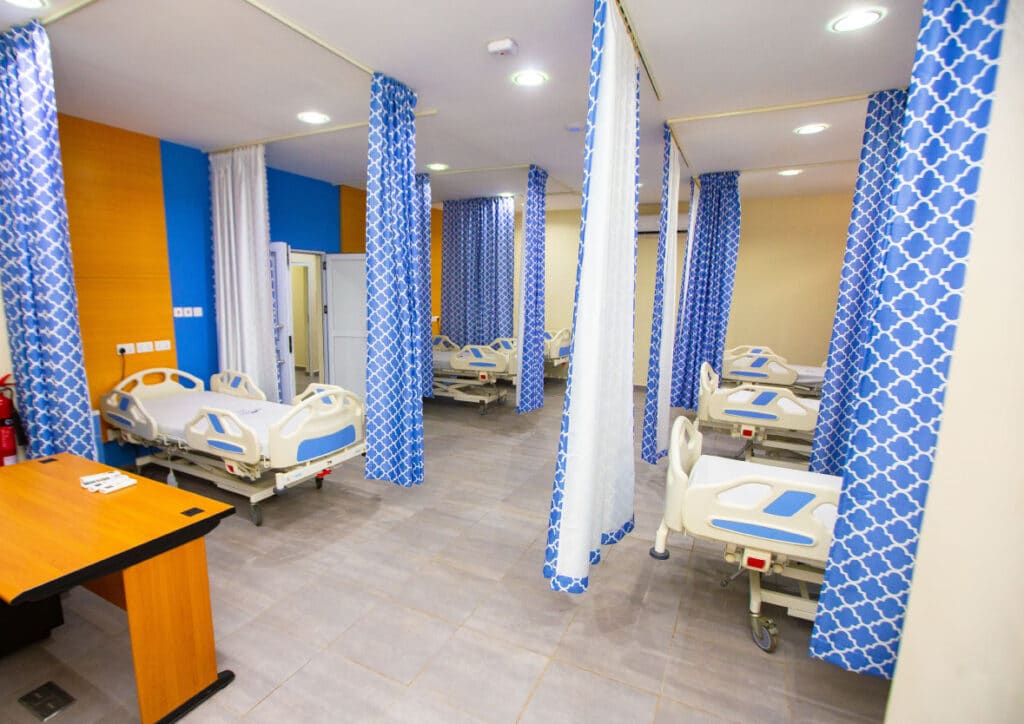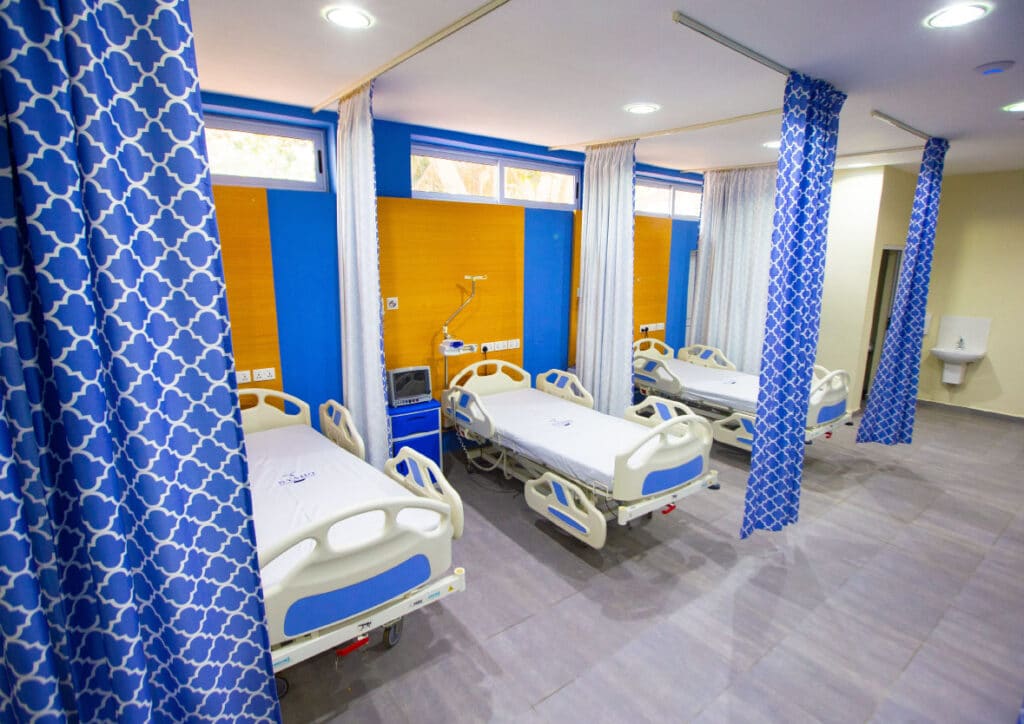 Frequently Asked Questions
This is my first visit to Nyaho. What should I do?
Speak to any of our front desk personnel and indicate your status as a first time visitor. You will be given a registration form that will require you to indicate the mode of payment, be it cash or credit based on insurance/employer coverage. After registration, you will receive a hospital identification number on your NMC card. You will be required to make a payment first.
Do foreigners need a special registration process?
No, there is not a separate registration formality if you are of foreign nationality. You will, however, need to make sure you have all your necessary referral forms (where applicable), preauthorizations and insurance documents to aid in the registration process.
Does Nyaho accept card payments or foreign currency?
Yes, we accept VISA, GHLink and MasterCard credit/debit cards. We accept US dollars at an approved exchange rate of the centre.
Are visitors permitted while I am on admission?
For patient safety and comfort, we permit visitors only between:
6:30 AM – 8:00 AM
12:00 PM – 2:00 PM
4:00 PM – 9:00 PM
Guests are permitted every day of the week.
Can I get different investigations/diagnostics tests done at Nyaho?
We have full-fledged laboratory and imaging services available round the clock to carry out various diagnostic tests/investigations. On reaching the hospital, report to the Front Desk and provide your hospital ID/prescription for guidance.
How can I get a medical report?
If you are an out-patient, kindly request your treating doctor to provide you with the required medical report. You will be asked to fill a form at the reception for the report which usually takes 5-7 working days to be ready.
For all in-patients, this request must be made to the attending doctor or specialist before the time of discharge.
Are all the consultants available 24 hours?
General Doctors are available 24 hours a day. Specialists are available only at specified times within the week. You can see more on consultant availability on our services page.
You can get the details of your patient from the Ward Reception or the security desk once you arrive at the centre.
The doctor has asked me to visit again. What should I do next?
If you are present in the hospital, kindly make a review appointment at the front desk. Alternatively, you may call +233-(0)30-708-6490 for booking.
Can I see any Specialist without a referral?
For some specialists, you can schedule appointments without a referral. However, others require a referral letter to assess the patient's current condition. These specialities include anaesthesia, gastroenterology, haematology etc.
I have specific questions. How do I reach out?
Call us on +233-(0)30-708-6490 or send an Email to clientservices@nyahomedical.com.
How do I schedule a medical appointment with a specialist at Nyaho Medical Centre?
Please call us on +233-(0)30-708-6490 or +233-(0)50-143-6662 to schedule your appointment. We are open 24 hours a day. You can also email us at frontdesk@nyahomedical.com or clientservices@nyahomedical.com with your details and requests and our customer service team will get back to you.
If you are planning to visit Nyaho Medical Centre for the first time, please provide your full name, place, contact number and the name of the Department/Doctor you wish to get an appointment with.
If you are coming for a review, please provide the hospital number on your hospital ID card/discharge summary.
I have already taken an appointment via Phone/Online, where should I report when I get to the Hospital?
Always bring along your hospital card provided to you during your first registration or at least your hospital number whenever you visit NMC. Please approach any front desk personnel for further guidance. If you do not remember your Hospital Number, you may have to respond to some questions to help retrieve your Number. However, do not register again for a new hospital number.
Should I fill in separate registration forms for each department/specialist that I consult?
No, you will be provided with a Hospital ID card during your first registration. The number printed on this ID card will be applicable for all consultations/investigations irrespective of the doctor.
The doctor has asked me to see a doctor in another department. How should I proceed?
Please approach the front desk team with your hospital number to request an appointment with the referred doctor.
What are the procedures for lab investigations? Will I get a copy of all my lab reports?
For all tests/investigations, prior payment must be made at the cash counter. Once billing is complete, you can go to the diagnostic centre along with the doctor's prescription. Staff will then guide you through the appointment process if the test cannot be done on the same day. After the tests, all reports will be handed over to you.
Will there be a requirement of providing advance payment at the time of admission?
Advance payment is usually collected at the time of the patient's admission to cover estimated hospital expenses. The amount depends on the type of treatment/surgery and also the type of room selected for stay.
If I am admitted to the hospital can a relative stay with me in the hospital during the night?
A relative is permitted to stay along with the patient during nights if the patient is admitted to a private room. We have professional caregivers who are always ready to help patients on admission.
I am visiting a friend but I do not know the admission ward. What do I do?
You can get the details of your patient from the Ward Reception or the security desk once you arrive at the centre.
frontdesk@nyahomedical.com 
or clientservices@nyahomedical.com