Regarded as one of the best health facilities, the center is recognized throughout the health industry for its high caliber of healthcare professionals, specialists, and excellent infrastructure.
The Nyaho team sees 50 years as amazing but says it was on a journey to stay, save lives, improve to become a beacon of hope, and a shining example to other healthcare facilities on how quality, dignified and convenient healthcare delivery is supposed to be.
The journey
Speaking to the Daily Graphic about how the journey had been so far and the expectations for the future, the Managing Director of the Nyaho Medical Centre, Dr. Elikem Tamaklo, said the hospital was working towards the founder's dream of transforming the facility into "Africa's most trusted name in health care".
He said as a family business, the Nyaho Medical Centre was established by his father, the late Dr Kwami Nyaho Tamaklo, on March 4, 1970, with the vision to provide the best in nursing and medical care in the country and outside of its borders.
Dr Tamaklo, who assumed office in April 2015, said it was the aim of the hospital to provide quality, safe care at an affordable cost.
A graduate of the St. George's Hospital Medical School in London, United Kingdom (UK) with a Bachelor of Medicine and Surgery in 2009, the managing director of Nyaho worked in a number of hospitals in the northwest of England with a focus on emergency medicine.
Services
The medical center provides care 24 hours daily and all year round, including weekends and holidays.
Services provided at the facility include Specialist Clinics, Anaesthesia, Cardiology, Dentistry, Dermatology, Dietetics, Ear, Nose, and Throat (ENT), Endoscopy, Family Practice Clinic, Haematology / Sickle Cell, Internal Medicine, Neurosurgery
Other services are obstetrics/gynecology, ophthalmology, orthopedics, pediatrics, physiotherapy, plastic surgery, surgery (general), urology, and psychiatry.
Other services include diagnostic and laboratory services, pharmacy services, antenatal classes, and child welfare clinics.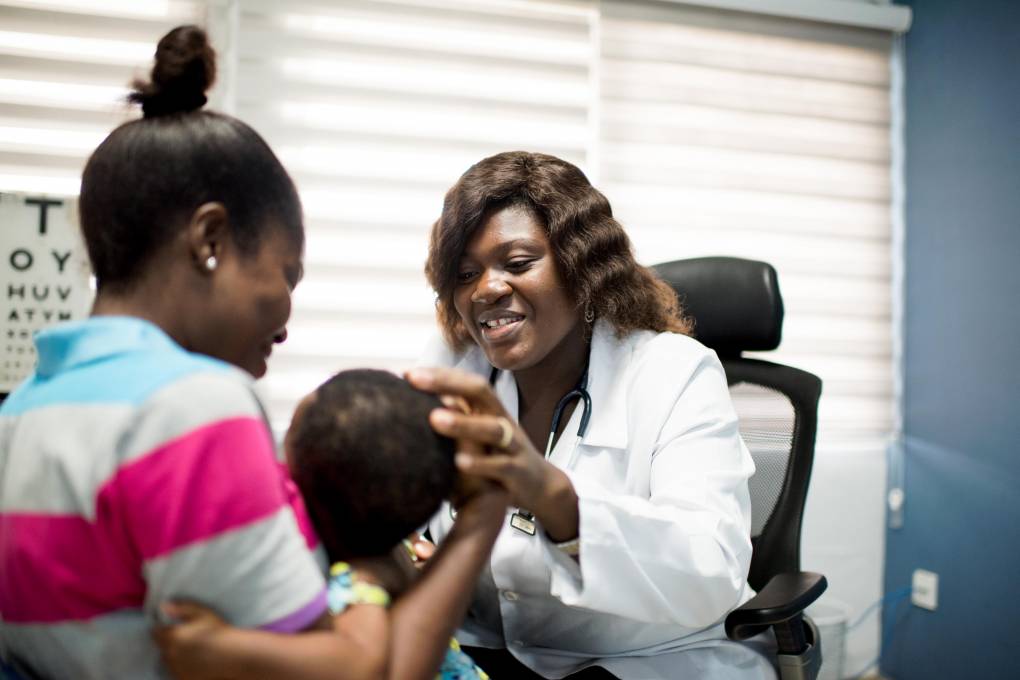 Technology
"We invest in the very best tools and modern technology to ensure a happy health outcome for our patrons (patients and family). For example, all our patients' records are digital, which means for example that laboratory results can be sent instantly to the pharmacy/doctors in the consulting room," Dr. Tamaklo explained.
He added that the medical center's "Picture Archiving and Communications System (PACS), which was the first in the country, — enabled doctors to better view x-rays, CT scans, and other medical imaging which resulted in more accurate diagnoses.
Nyaho Medical Centre, Accra Central, is also open at The Octagon on Barnes Road for the convenience of clients working and living within Accra Central.
The state-of-the-art facility offers access to a range of seasoned professionals and expert specialists and is tech-enabled to deliver fast healthcare solutions in a comfortable and serene setting.
Founder and his motivation
Throwing more light on the founder and his vision, Dr. Tamaklo said his father was born Kwami Nyaho Tamaklo, on August 20, 1927, at Kpalime, a small town in the middle belt of Togo.
He said his father was forced to stop schooling when he developed a severe infection (osteomyelitis) of his right leg.
"His parents took him to many herbalists in the villages around Lome for treatment but without any success. He spent a couple of months in the voodoo shrine at Dzelukofe near Keta, but unfortunately, their priests could not cure his diseased leg.
Then in the latter part of 1940 when news of a French surgeon was posted to the Lome Hospital reached his parents, they rushed him there to see him.
He operated on his leg on three occasions without anesthesia. He was given, on each occasion, an alcoholic drink and was pinned down to the operating table by two stout men. It was an ordeal, but it paid off eventually. He was cured of the disease," Dr Tamaklo said.
In admiration of that surgeon, he decided that he would become a doctor.
Medical centre
Having read about how the Mayo Brothers set up the Mayo Clinic in Minnesota, United States of America, he was convinced about the need to establish a group medical practice in Ghana.
"My dad told us that although he was gainfully employed, he felt something was missing in his life and was convinced that he would only be fulfilled with the establishment of a group medical practice. Thus, in 1967, he applied and acquired about two hectares of land (4.5 acres) at the Airport Residential Area where Nyaho Clinic is presently sited," the managing director of the Nyaho Medical Centre said.
Strategy redefinition
Dr. Tamaklo said in 2015, his mum was due to retire so he decided to come back home to support his father's legacy and make an impact, so he started looking at the operational strategy at the time so "we could refine it to fit modern trends since healthcare delivery was dynamic and evolving".
He said it was about what the family and the team could do to enhance the business before other investors could join and so they started looking at the discipline in terms of business organization which led to building an executive team and a strong management team, among others in the last five years.
"Due to financial constraints, we took a stepwise approach to say 'let's focus on the people, then, safety and risk management, which we did between 2015 and 2017," he recounted.
Corporate social responsibility
The Corporate Social Responsibility (CSR) arm of Nyaho Medical Centre, the Nyaho Dove Foundation, has been impacting lives since its inception.
The foundation is based on four key pillars to improve access to health through outreaches and education; shaping health policies through the annual healthcare forum; family physician training for some of their doctors, research and development.
He gave some examples of giving back to society as part of their CSR. Dr. Tamaklo said the facility had the policy to attend to all emergency cases where the patients could not afford by stabilizing and referring to other public facilities.
He said the hospital also carried out free childhood routine vaccination in partnership with the Ghana Health Service, carried out free breast cancer screening, blood donation exercises for public facilities among many others.